Home
➝ Digital Camera Restore Software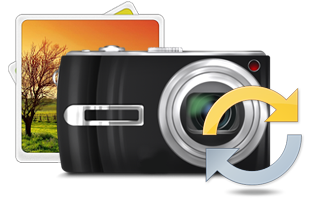 Digital Camera Restore Software
Professional photo recovery utility is developed for the Graphic designer and Photographers to undelete all deleted data from Digital cameras. Software easily works with variety of digital cameras including Canon, Olympus, Panasonic, Sony, Samsung and other popular Digital camera brands.
Reasons that may be responsible to cause data loss from digital camera including:
Human error: Data may be lost due to accidental pressing Delete button, malicious disk format, improper device handling or even if memory card is being pulled out while camera is in running mode.
Device error: Logically corrupted or formatted media, inaccessible disk drive, virus generated data loss.
Software or hardware failure.
Power glitches and other reasons.
Software Features:
Easy to work with Point and Shoot camera, Digital Video camera, Semi Professional camera, Compact Camera, Novelty camera and other latest digital camera models.
Compatible with Sony, Canon, Olympus, Nikon, Panasonic and other popular Digital camera brands.
Support major file formats including jpg, gif, mp3, mpeg, doc and similar.